Slewing Bearings
Features
A slewing bearing consists of inner and outer rings, rolling element, spacers, seals and grease fitting.

A slewing bearing can bear heavy single or complex loads and moments from radial, axial or other directions. Inner and outer rings contain mounting holes, grease fitting and seal setting.

The inner and outer ring of bearing are respectively mounted to slewing and fixed part of a machine by bolts. It has a close structure and easy to be mounted and maintenance. This bearing can meet different working conditions and requirements of most types of machines, especially be used by large and heavy machines.

Gainhui provide single row 4-point-contacted ball bearing, two rows of ball bearing, single row of crossed roller bearing, tripe-row of roller bearing.

They all include three types: non gear, external gear and internal gear.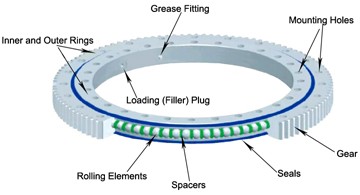 Applications
Port hoisting machine, ship machine, construction machineries, aero generator, shield machine and other large rotation mechanisms.
Type Code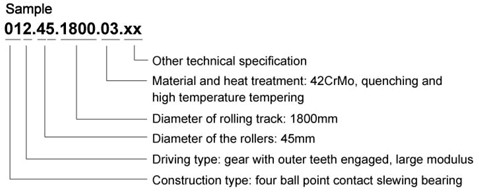 Construction Type

Single row of 4-point-contacted balls (series 01) is shown in figure 1;

Double-row of different diameter balls (series 02) is shown in figure 2, the combination of different balls are show as upper ball diameter/lower ball diameter, such as 25/20, 30/25, 40/30, 50/40, 60/50.

Single row of rollers (series 11) is shown in figure 3, the rollers are alternately oriented.

Triplex row of rollers (series 13) is shown in figure 4, the combination of different rollers are show as upper roller diameter/lower roller diameter/radial roller diameter, such as 25/20/16, 32/25/20, 40/32/25, 45/32/25, 50/40/25.

Profile Sub-plan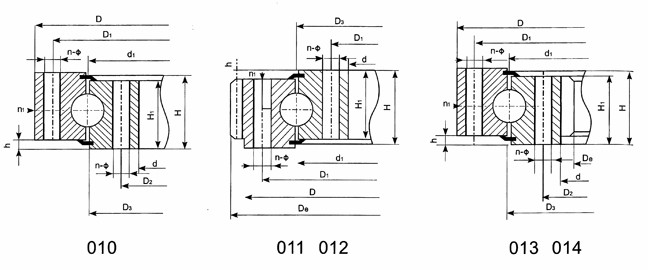 Dimension and Parameters (Single row of 4-point)




Bearing No.

Dimensions

Dimensions

Outer Gear

Inner Gear

Weight(Kg)

Non-gear

Outer Gear

Inner Gear

D

d

H

b

x

m

da

Z

da

Z

Outer Gear

Inner Gear

Non-gear

010.30.500

011.30.500

013.30.500

602

398

80

60

0.5

5

629

123

367

74

80

90

84

010.30.500

012.30.500

014.30.500

602

398

80

60

0.5

6

629

102

368

62

80

90

84

010.25.500

011.25.500

013.25.500

602

398

80

60

0.5

5

629

123

367

74

80

90

84

010.25.500

012.25.500

014.25.500

602

398

80

60

0.5

6

629

102

368

62

80

90

84

010.30.560

011.30.560

013.30.560

662

458

80

60

0.5

5

689

135

427

86

100

102

92

010.30.560

012.30.560

014.30.560

662

458

80

60

0.5

6

689

112

428

72

100

102

92

010.25.560

011.25.560

013.25.560

662

458

80

60

0.5

5

689

135

427

86

100

102

92

010.25.560

012.25.560

014.25.560

662

458

80

60

0.5

6

689

112

428

72

100

102

92

010.30.630

011.30.630

013.30.630

732

528

80

60

0.5

6

773

126

494

83

118

116

104

010.30.630

012.30.630

014.30.630

732

528

80

60

0.5

8

774

94

491

62

118

116

104

010.25.630

011.25.630

013.25.630

732

528

80

60

0.5

6

773

126

494

83

118

116

104

010.25.630

012.25.630

014.25.630

732

528

80

60

0.5

8

774

94

491

62

118

116

104

010.30.710

011.30.710

013.30.710

812

608

80

60

0.5

6

851

139

572

96

131

132

121

010.30.710

012.30.710

014.30.710

812

608

80

60

0.5

8

854

104

571

72

131

132

121