Hoisting & Conveying Machinery
Most hoisting and conveying machineries are operated periodically, i.e. their mechanisms have to frequently start, stop and alternate directions, their loads are usually quite heavy although the speeds are not so high. The machineries have to work in a dusty, moist, salty and corrosive environment, therefore they are required to be efficient, stable, reliable, well maintainable and have long serving life, and the bearing used in the machineries are required to have high load–ability, high reliability and long life.
Gainhui bearings mainly applied in gearbox, moving mechanism, hoisting mechanism, extending mechanism, rotating mechanism, etc.Gainhui can also provide sealed bearing and other anticorrosive products to meet requirements at the open air on sea.
Mainly with the bearing model:
22216,22217,22218,22220,22224,22230,22320,22324,22326,22330,22210,22212,22213,22214
22215,22222,22226,22228,22232,22236,22313,22314,22316,22322,22328,22334,22338,22340
32212,32218,32220,32224,32230
Metallurgical Industry Application
In metallurgical industry, Gainhui bearings are mainly applied in continuous caster, table rolls in hot mills, conveyors of heating furnace and so on. In accordance with extreme high temperature and continuous operation under heavy load, Gainhui has developed a series of bearing used for continuous caster, mainly for mold oscillator and table rolls of bow segments and cooling segments. Some of them have been successfully worked in new lines of domestic and oversea steel works.
Gainhui is also the main bearing supplier used in steel works for repairing and maintenance of various equipment e.g. gearboxes, fans, table rolls.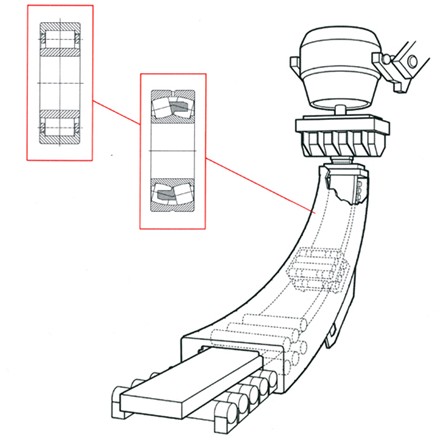 Mainly with the bearing model:
22224,22230,22232,22240,22244,22313,22316,22318,22320,22324,22344,23028,23044,23224,23236,23238,24024,24026,24034,24036,24048,23120,23144,23148,24164,24180,239/500
NU2244, NUP232, NNU49/600,NNC4844V,NNC4848V,NNCL4848V,,NU1032, NNU4952
16038,16052,6309,6310,7319,7326
Coal Mining Machinery
Modern coal–mine machinery is featured in compact structure, reliable safety, utilization of whole set, high production efficiency and adaptability to comprehensive and severe conditions. Bearing is required to run safely and reliably under heavy load, strong impact and extreme contamination. Gainhui has developed specific kinds of products corresponding to application such application features. It adopts the special bearing steel, unique product design and special heat treatment to offer the long life under extreme contamination, strong impact and heavy load.
Mainly with the bearing model:
23230,23238,NN4938,NN3030,SL044938,SL045030
22230,22328,23130,23936,23948,23952,23968,23980