Cylindrical Roller Bearings
Features:
a、Lower speed than the ball bearing with the same dimension
b、High precision
c、Low noise and small vibration
d、Mainly withstand radial load
e、Can withstang a litter axial load if outer ring and inner ring have ribs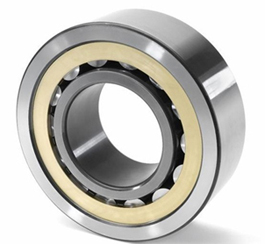 Double row cylindrical roller bearings full performance characteristics
GainwaySL04 series double row full complement cylindrical roller bearing mainly used to sheave, as it has large radius load capacity and shock-proof ability as well as axial load capacity in both directions.
Comprising one outer ring and two inner rings, the bearing is assembled as a unit by an internal locking structure. The width of the outer ring is less than total width of two inner rings by 1 mm, two snap rings are fitted on the outer ring, oil grooves and holes are made at contact face of two inner rings, therefore the bearing application design is simplified. On both sides of the bearing mounted are steel seals, or optional rubber seal or nylon seals. All outside surfaces of the bearing components are phosphate to ensure the bearing able to work in the open air.
Application
Electric motors, machine tools, construction machineries, light industry machineries, paper machineries, textile machineries, etc.
Type Code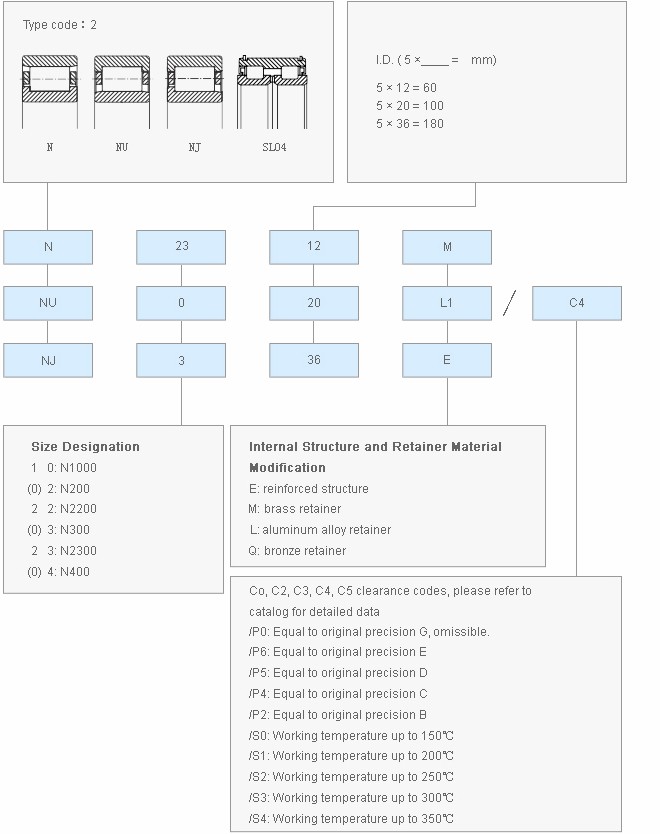 Profile Sub-plan

Dimension and Parameters
Bearing No.

Dimensions

Basic Load

Basic Load

Weight

Shoulder Dia

(mm)

Ratings (Kn)

Ratings ((Kn)

(kg)

(mm)

New

Old

d

D

B

Cr

Cor

Grease

Grease

wt

da(min)

Da(max)

Da(max)

NU203 NJ203 N203

32203 42203 2203

17

40

12

8

5.5

14000

18000

0.066

19

36

0.6

NU204 NJ204 N204

32204 42204 2204

20

47

14

25.1

22

13000

16000

0.114

25

42

1

NU2204 NJ2204 N2204

32504 42504 2504

20

47

18

29.7

27.5

13000

16000

0.145

25

42

1

NU304 NJ304 N304

32304 42304 2304

20

52

15

30.8

26

12000

14000

0.152

26.5

45.5

1

NU2304 NJ2304 N2304

32604 42604 2604

20

52

21

41.3

38

11000

14000

0.212

26.5

45.5

1

NU205 NJ205 N205

32205 42205 2205

25

52

15

28.6

27

11000

14000

0.136

30

47

1

NU2205 NJ2205 N2205

32505 42505 2505

25

52

18

34.1

34

11000

14000

0.163

30

47

1

NU305 NJ305 N305

32305 42305 2305

25

62

17

40.2

36.5

9500

12000

0.246

31.5

55.5

1