Tapered Roller Bearings
Features:
a、high speed, high precision
b、high rigidity, stand impact and vibration
c、can withstand big axial load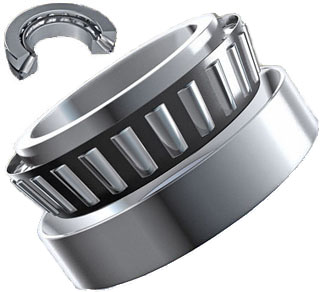 This bearing is suitable to bear composite load of axial load and radial load. Normally radial load is predominant but for great taper angle bearing the axial load could be predominant.

Taper roller bearing is a separable bearing. Its outer ring can be mounted individually from the unit of inner ring, cage and rollers. Its radial and axial internal clearance can be adjusted during installation; even can be a interference installation. For taper roller bearing stamped steel cage is common selection. For large size bearing, welded steel cage or pin-assembled cage is used.
Applications
Hob bearing of truck, shaft of large machine tool, wheel shaft box, large reducer, bearing of rollers of steel mill, etc.

Type Code
Profile Sub-plan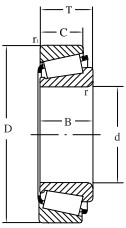 Dimension and Parameters
Bearing No.

Dimensions

Basic Load Ratings

Limiting Speeds

Weight

Shoulder Dia

(mm)

((Kn)

(r/min)

(kg)

(mm)

New

Old

d

D

B

Cr

Cor

Grease

Oil

wt

da(min)

Da(max)

ra(max)

31318

27318E

90

190

43

264

315

1800

2400

5.52

0

0

0

32318

7618E

90

190

64

450

590

2000

2600

8.6

0

0

0

32919

2007919

95

130

23

98

172

2400

3400

0.877

0

0

0

32019

2007119E

95

145

32

156.5

276.3

2200

3200

1.78

0

0

0

33019

3007119E

95

145

39

231

389.9

3000

3800

2.26

0

0

0

30219

7219E

95

170

32

213.7

306.6

1900

2800

2.999

0

0

0

32219

7519E

95

170

43

298

415

1900

2800

4.34

0

0

0

30319

7319E

95

200

45

365

445

1800

2600

6.91

0

0

0

31319

27319E

95

200

45

310

375

1700

2400

6.64

0

0

0

32319

7619E

95

200

67

525

710

1900

2600

10.4

0

0

0

32920

2007920

100

140

25

117

205

2200

3200

1.18

0

0

0

32020

2007120E

100

150

32

159.5

286.9

2000

3000

1.882

0

0

0

33020

3007120E

100

150

39

229.2

391.2

2200

3000

2.4

0

0

0

30220

7220E

100

180

34

238

344.8

1900

2800

3.688

0

0

0

32220

7520E

100

180

46

345

490

1800

2600

5.31

0

0

0

33220

3007220

100

180

63

410

635

2000

2600

6.76

0

0

0

30320

7320E

100

215

47

405

495

1700

2400

8.09

0

0

0

31320

27320E

100

215

51

385

505

1500

2200

9.02

0

0

0

32320

7620E

100

215

73

565

755

1700

2400

12.7

0

0

0

32921

2007921

105

145

25

119

212

2200

3000

1.23

0

0

0

32021

2007121E

105

160

35

176.8

312.1

1900

2800

2.377

0

0

0

33021

3007121E

105

160

43

256

435

2000

2800

3.03

0

0

0

30221

7221E

105

190

36

269.3

395.8

1800

2600

4.393

0

0

0

32221

7521E

105

190

50

385

555

1800

2600

6.34

0

0

0